Marinated Chicken Breasts in Maille with Spring Onion and Spinach Salad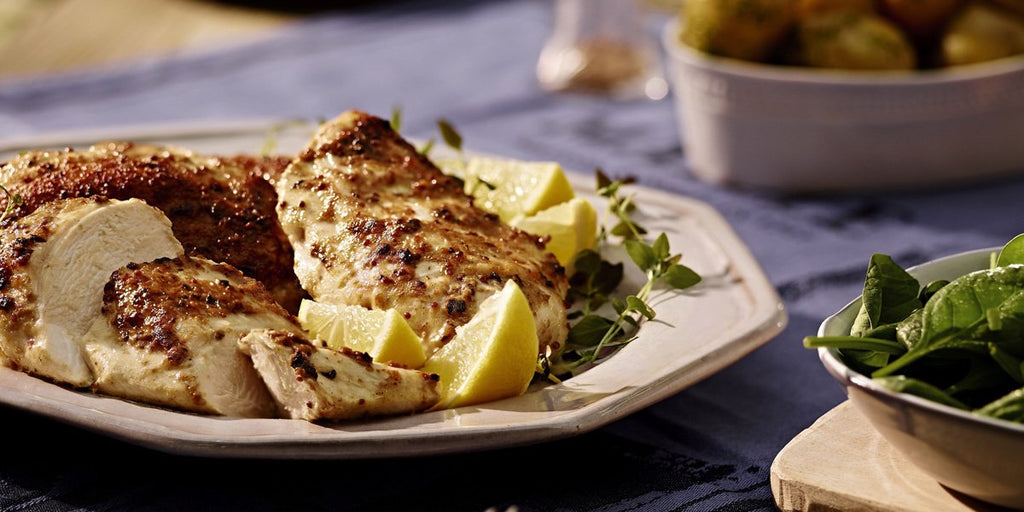 Ingredients
Marinade
4 tbsp Maille olive oil
Grating of lemon zest  
Salt and freshly ground black pepper 
4 chicken breasts 
Salad
Preparation
Mix the Maille black olive and white wine mustard with the olive oil and Maille sherry vinegar with sundried tomatoes in a shallow non-metallic dish. Season. 
Add the chicken breasts to half the marinade and turn them over to coat in the mixture. Cover and refrigerate for at least 30 minutes, or overnight. Reserve the other half of the marinade to brush on the chicken before serving. 
Preheat the oven to 200°C/fan oven 180°C/Gas Mark 6.
Arrange the chicken on a baking sheet and roast for 25-30 minutes, until cooked, basting after 15 minutes with the marinade. Test with a sharp knife – there should be no trace of pink juices. If there are, cook for a little longer. 
Whilst the chicken is cooking, make the salad dressing by whisking together the mustard, olive oil and vinegar. Season. Mix together the baby spinach and spring onions. Add the dressing and toss together. Serve with the chicken breasts, and garnish with thyme.  
---