Spring Chicken with roasted new potatoes and fresh herb sauce vierge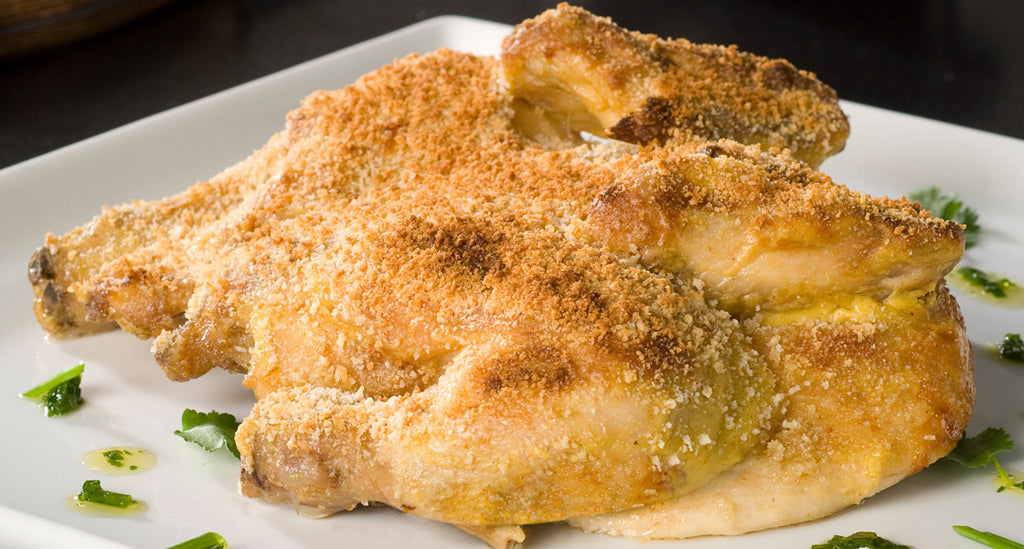 Ingredients
2 young free-range spring chicken (approx. 500g)
500g new potatoes
4 garlic cloves
10cl Extra virgin olive oil
50g breadcrumbs
4 tbsp. of Mustard with Sauternes white wine
Sauternes white wine vinegar or White balsamic condiment
½ bunch chives
½ bunch flat-leaved parsley
Salt
Preparation
Preheat your oven to 210°C (gas mark 7).
Mix the new potatoes, the garlic in their skins (don't peel, just separate the cloves) and the salt together in an oven-proof dish. Drizzle generously with olive oil, and mix so that the potatoes are well coated. Roast the potatoes for around 45 minutes.
On a chopping board, open the cockerels along the back using a large knife in order to remove the spine. Flatten them and season with salt and olive oil then place in a dish skin side up.
Place the cockerel in the oven and add around 100 ml of water to the dish after 10 minutes. Every 5 minutes, baste the cockerels with the cooking juices using a tablespoon. (Add water if necessary).
After 20 minutes of cooking, remove the birds and coat with the mustard using a brush or spoon, and sprinkle with breadcrumbs. Finish baking the cockerels in the oven for the remaining 10 minutes.
Chop the herbs finely and mix them with the olive oil and a dash of Sauternes white wine vinegar or White balsamic condiment.
Serve the cockerel with the roast potatoes and the sauce vierge.
---