GARNISH YOUR DISHES WITH A PERSONAL TOUCH, JUST ADD MAILLE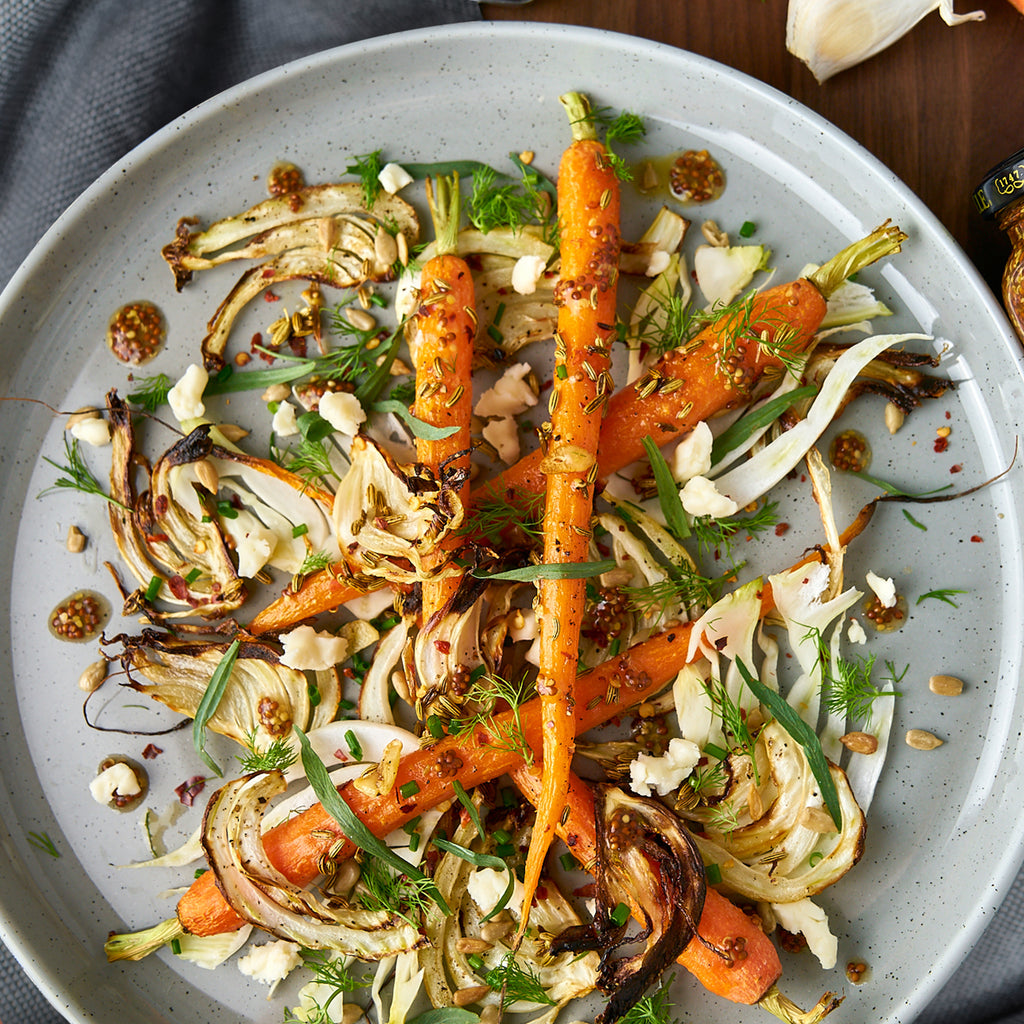 At Maille, we believe that we eat with all of our senses, and that the visual presentation of a dish truly enhances its enjoyment. This view is deeply rooted in our French provenance, which stretches back to the 1800s.
Once you have the flavours of your recipe finalised, creating and building the experience on the plate is the next exciting step.
A great garnish is edible and by marrying the garnish with your recipe, not only do you brighten the plate but provide a flavourful clue. It could be as simple as a few glossy olives, freshly chopped herbs, coarsely ground pepper or flaky salt. Chunks or slices of roasted or grilled lemon, Maille cornichons or a bright green burst of celery leaves, make gorgeous garnishing elements.
An example of where ingredient and garnish work in perfect harmony is in our pancake recipe. The bold beauty of the vibrant mixed berries, enriched with the sweet flavour of Maille Dijon Honey Mustard and contrasted with a dusting of white icing sugar results in a plate of absolute beauty!
Another best-kept food styling secret is the use of contrast. The presentation of our Savoury waffle recipe, perfect for brunch or lunch, can stand on its own or as one gorgeous presentation. Each quarter bursts with different ingredients, flavours and textures.
When placed one on top of the other the colourful ingredients create a striking contrast. The greens of the veggies pop against pale pink smoked salmon and the bright yellow little quail egg. All of the ingredients are enhanced by the classic fruitiness of our Maille Dijon originale mustard and a dollop of bright-white crème fraiche provides the grand finale for sheer presentation perfection!
Get into chef mode and explore your food styling ideas when entertaining. Our easy recipes give you the perfect opportunity to creatively showcase your foodie skills, resulting in visually beautiful dishes that look too good to eat!
---