FOOD FOR THE SOUL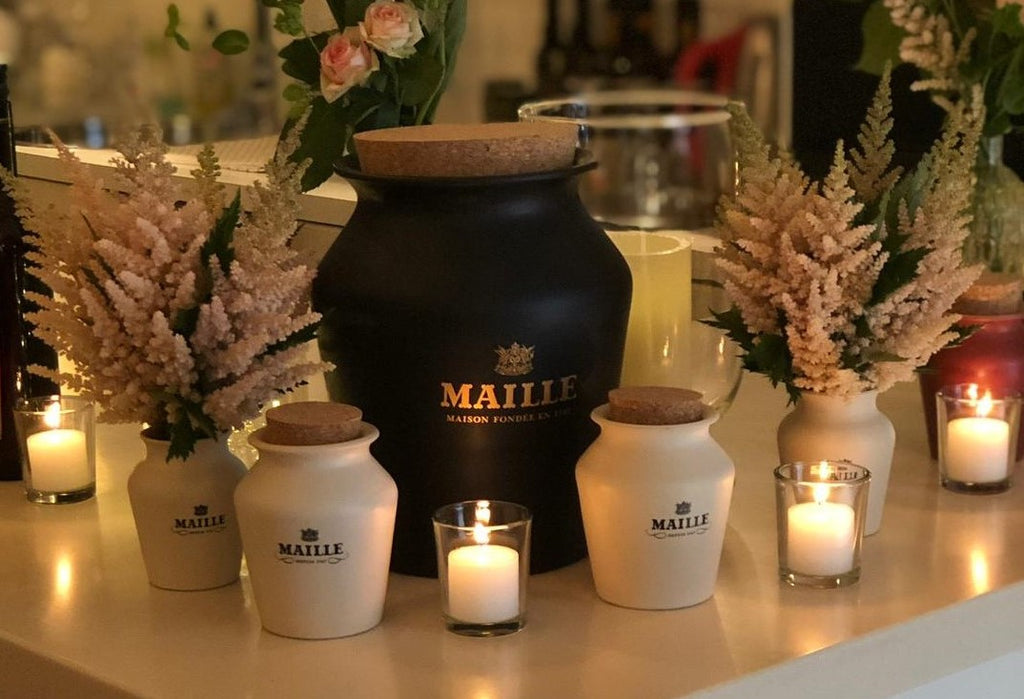 You have been preparing the ultimate gourmet meal – a tasty entrée of Grilled Aubergine Antipasto and Maille Tahini Dip, a main of succulent Dutch Oven Chicken, cauliflower cheese infused with Chablis White Wine Mustard with Black Truffle and Brussel sprouts wrapped in Maille Dijon Originale Mustard glazed bacon. Rounded off with a delicious Honey Mustard Cheesecake adorned with glorious tangy fruits.
And now, being the ever inspired and gracious host, it is time to create that entertaining table experience. When it comes to entertaining your guests and setting a scene befitting of your incredible food, make that extra effort, have fun making use of what you have and introduce unique touches to fit the occasion. Let your table be a feast for the eyes with elements that allude to the meal itself, like the organic, seasonal ingredients you have used.
Bring out those pieces to delight your guests, think vintage linens with hand-crafted embroidery, the rippled grain of a wooden charcuterie board or the inviting touch of fired clay crockery. Celebrate life's special moments, it is such a thrill to unpack those Christmas, Easter and birthday themed decorations. Love, style and a sense of heritage are always in season.
Present your aperitifs, dips, condiments and snacks with effortless style - coarse salt and pepper in elegant, earthy bowls, Maille cornichons on rustic slices of bread and Maille mustards in artisanal jars. Or upcycle one of your lovely Maille glass jars as a vinegar shaker for an extra touch of originality. Love is in the details, the smallest of touches will be appreciated - a sprig of berries on a napkin, a handwritten note for each guest. Pair with hearty wines or delightful, seductive cocktails, flattering lighting and evocative tunes. Elevate all the senses… simply scrumptious!
Et voila, art de table, art de vivre! Your beautifully crafted event is ready for company and memory-filled, photo-worthy posts are guaranteed.
---